Ricoh to exhibit its Laser Rewritable Digital Labeling System at ProMat®DX
Unveiling new labeling solution with Ricoh's rewritable technology
Tokyo, March 31, 2021 – Ricoh Company, Ltd. will exhibit its new Laser Rewritable Digital Labeling System at ProMat®DX, virtual and global tradeshow for material handling industry, to be held April 12 to 16, 2021.
Ricoh's innovative Laser Rewritable Digital Labeling System eliminates the need for printing and affixing labels, making the operation labeling-less and virtually labor-free. The system utilizes a combination of cutting-edge laser imaging and Ricoh's original thermal rewritable technology. With Ricoh laser printing technology, high-quality text, barcodes, and 2-D codes can be printed on labels pre-applied to reuse or recirculating plastic totes. When the image data printed on the label is no longer needed, the same laser will erase the label in just a few seconds, safely, and touch-free. Furthermore, the now-blank labels can be reprinted with new information or images. The Ricoh Laser Rewritable Label System media is designed to for approximately 1,000 print/erase cycles and can be used in applications both indoor and outdoor.
Current labeling systems are a manual process involving printing new labels, applying them, and after the labels are no longer needed, removing them. This is labor intensive process, susceptible to human error and increased labor costs. Additionally, repeatedly replacing labels causes adhesive residue to accumulate, label waste, need for inventory replenishment, and potentially unsafe work conditions for Factory Floor Employees, who at times my use sharp object(s) to remove used labels. The system is fully automated. It significantly reduces material/labor costs, and also creates a clean and safer working environment.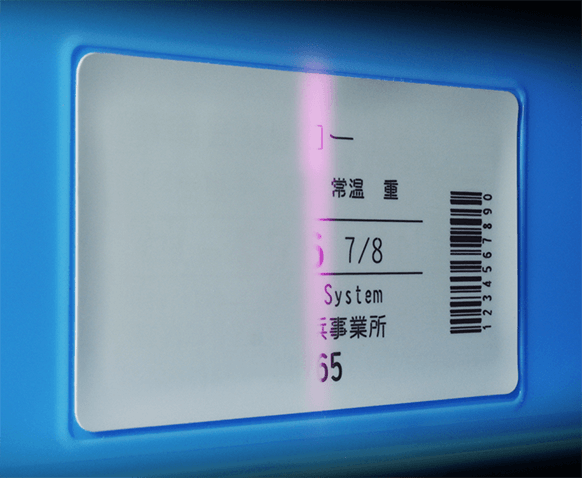 Erasing previous label information
In January 2020, Ricoh started providing this solution to Japanese market. Since then, we have been contributing process efficiency improvements at our customers. In US, we are aiming to launch the very solution in Summer 2021. This exhibition at ProMat®DX is an official kickoff of Ricoh's new solution for North American customers.
The world premier product demo of the product is scheduled at 3:00 PM US Central Time on April 12, 2021. This live virtual event can be accessed by pre-registering to www.promatshow.com from anywhere around the globe.
Details of the exhibit
Outline of the exhibition
PROMAT® DX Digital Experience
In order to attend this online exhibition, please pre-register at www.promatshow.com.
Related Links
Relevant Content