Ricoh exhibits its Metal Additive Manufacturing technology at Formnext 2021
Ricoh's proprietary solution will harness the company's leading inkjet printhead expertise to produce aluminum parts in complex shape at speed and, most importantly, in a stable manner.
TOKYO, November 10, 2021 – Ricoh Company, Ltd. and Ricoh UK Products Ltd. will exhibit a new metal binder jet* technology at this year's Formnext event (Organizer: Mesago Messe Frankfurt GmbH), held at Frankfurt, Germany from Nov. 16 to 19, 2021. The technology, developed to support aluminum alloy, is intended to realize the ambition of end-use metal parts production using 3D printing.
Aluminum alloys are already widely used for metal parts. The proprietary Ricoh solution has been developed to create a controlled production environment, with the unique capability to produce aluminum parts in intricate shapes and narrow tubes. This will improve energy use efficiency by reducing part weight and improving heat dissipation.
Formnext is the leading global trade fair for manufacturing and processing technologies related to additive manufacturing and the next generation of intelligent industrial production. The exhibition will bring together technologies, products and services from around the world, including industrial 3D printing, as adoption ramps up across a wide range of fields such as automotive, aerospace, mechanical engineering, electrical engineering, and healthcare.
Through co-creation activities with our customers, Ricoh will develop a metal 3D printing technology that can produce innovative aluminum parts. This will allow the production of end-use metal parts that can replace heat dissipating components.
*Binder jet method: The inkjet head injects a liquid bonding agent to solidify the powder layer by layer.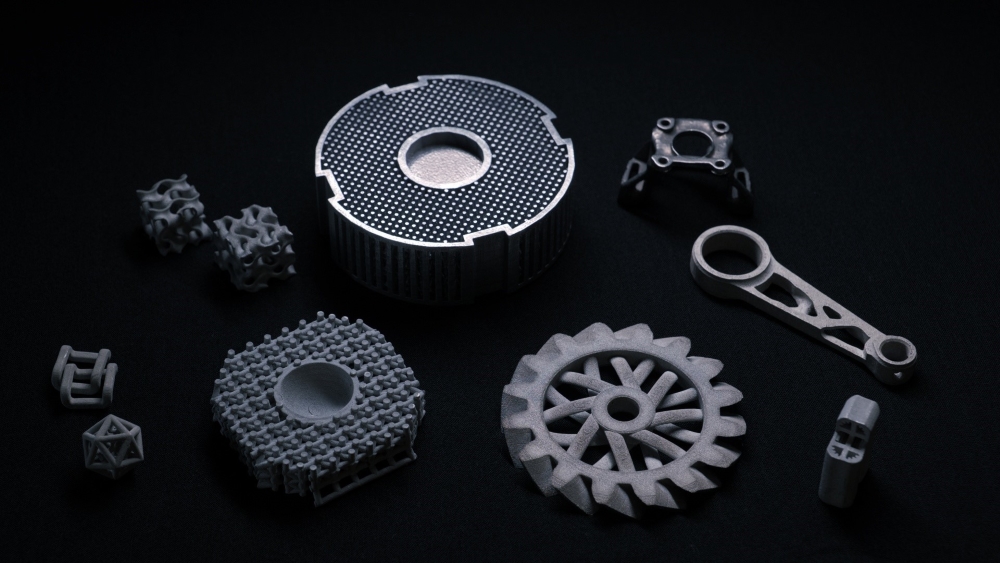 Example of metal parts formed by metal 3D printer
RICOH Binder Jet Metal 3D Printer
Exhibit Content
New metal binder jet technology for manufacturing innovative aluminum parts
Contributes to weight reduction and improved heat dissipation of metal parts by realizing shapes that cannot be produced with existing processing technologies.
The binder jet method saves time and resources due to its high productivity and the ability to reuse unused materials.
Ricoh's industrial inkjet printhead technology, developed over many years, enables stable manufacturing of parts with complex shapes.
Capable of processing aluminum alloy, which is widely used as metal parts
Meet the experts during Formnext
Visitors to Ricoh's stand at Formnext can experience aluminum parts produced using Ricoh's metal binder jet technology, as well as discuss relevant activities with the team behind this exciting new technology.
Formnext 2021 Overview
Organizer: Mesago Messe Frankfurt GmbH
Venue: Messe Frankfurt, Germany (Ricoh booth: C51, Hall 11.0)
Date: Tuesday, November 16 - Friday, November 19, 2021
Detail: Link
Inquiry
AM Business Center, Ricoh Futures Business Unit, Ricoh Company, Ltd.
Inquiry form: Link